DAY TRIP TO
VALLE D'ITRIA
DAY TRIP TO
BARI AND
MURGIA TERRITORY
DAY TRIP TO
LECCE AND SALENTO
OSTUNI AND HIKING
IN THE PARK AND COASTAL DUNES
OF TORRE GUACETO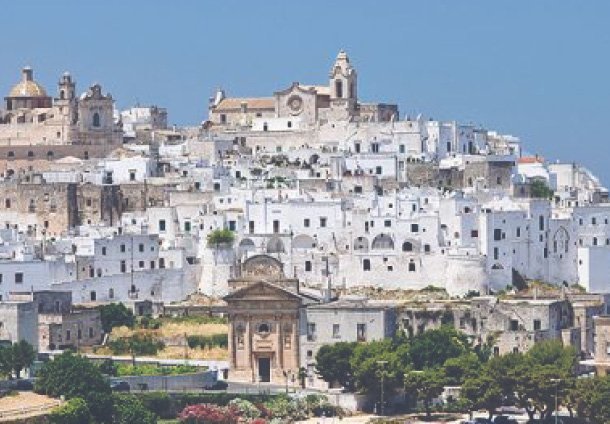 Ostuni looks wonderful on top of a hill, where the olive trees seem blended without a boundary and the blue of the Adriatic Sea is clear to sight.
The city also known as "white city" because of its houses painted with limewash it is the panoramic city per excellence. It is just 20 km away from Torre Canne and borders the southern boundary of the Coastal Dune Park, a protected area that stretches along 8 km of coastline from Torre Canne (Fasano) to San Leonardo Torre (Ostuni).
The park is of great appeal as it retains patches of coastal dunes characterized by the Mediterranean and is one of the major ecosystems in the territory thanks to its ponds, the rivers behind the dunes and fossil dunes.
In the perimeter of the park there are many farms and historic manor farms (masseria) dedicated to the production and sale of olive oil, queen tomatoes of Torre Canne, meats and cheeses.
Guests can explore the unspoilt nature of the largest marine protected area of Torre Guaceto, about 30 km south of Torre Canne.
A wild corner dominated by the Torre Aragonese from 1500. A paradise to explore coves, high dunes, making it a magnificent dwelling for rare animals to be admired by birdwatchers.
DAY TRIP TO
FASANO AND EGNAZIA
If it's a family holiday in Fasano at Zoo Safari is a must for a day trip. From hippos to lions, pelicans and penguins, the Zoo Safari has over 50 different species of animals to see and so many areas to visit some by car, some walking, others riding on an electric train.
The history of Fasano is linked to that of Casale di Santa Maria de Fajano, under construction in 1088 at the hands of the people who left the ruins of Egnazia, the latter one of the most interesting archaeological sites of Puglia. The ruins speak of an ancient city located along the Appian Way, the ancient olive trees on one side and the sea on the other seem to keep it as a precious heirloom that has been the history of many civilizations following one another in time.